Whitepaper:
Market analysis: closing backup and recovery gaps
Data is the lifeblood of every modern business, driving billions of dollars in digital innovation and growth every year.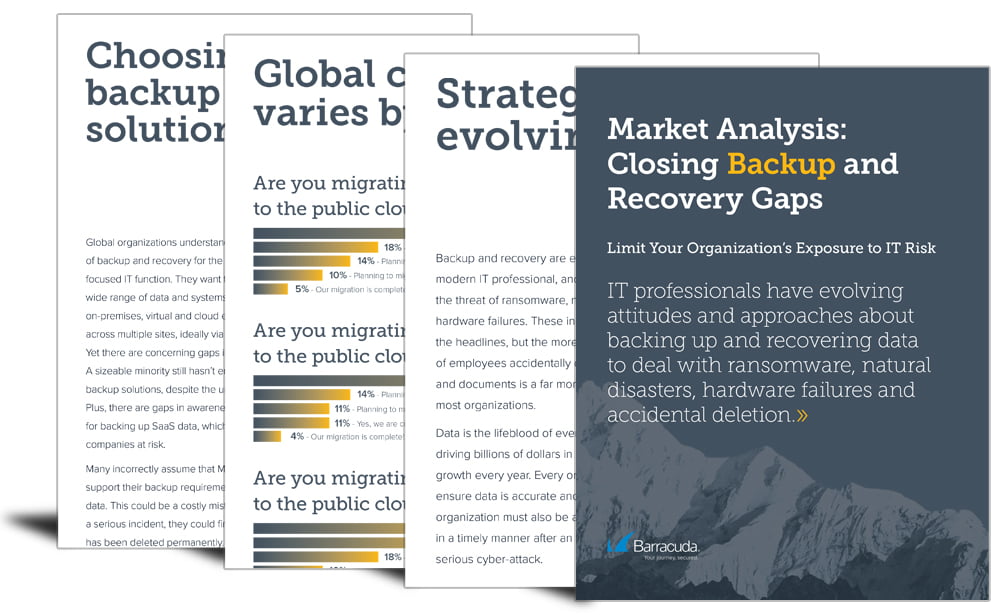 Backup and recovery are essential for the modern IT professional, and not just because of the threat of ransomware, natural disasters and hardware failures.
Every organization needs to ensure data is accurate and up to date. Every organization must also be able to recover data in a timely manner after an outage, serious cyber-attack, or the simple mundane mistakes of employees accidentally deleting key emails and documents.
Barracuda surveyed more than 1,000 IT professionals, business executives and backup administrators to find out more about their data protection strategies. Respondents represent a broad cross section of industry sectors, from organizations ranging in size from less than 50 employees to more than 5,000.
Check out the evolving attitudes and approaches to backing up and recovering data to deal with ransomware, natural disasters, hardware failures and accidental deletion – as revealed by the survey.
Please complete the form to download the asset.