Whitepaper:
The new reality: bringing order to chaos
Chaos and confusion dominated the cybersecurity landscape even before the COVID-19 pandemic. It can get worse….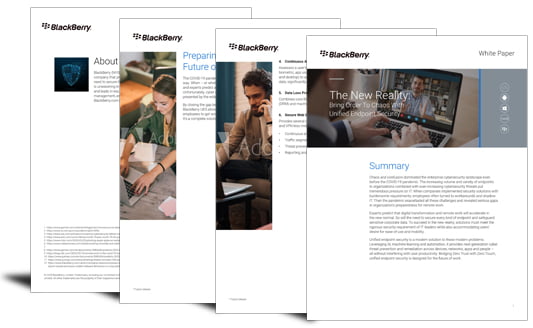 The increasing volume and variety of endpoints in organizations combined with ever-increasing cybersecurity threats put tremendous pressure on IT. When companies implemented security solutions with burdensome requirements, employees often turned to workarounds and shadow IT.
 Then the pandemic exacerbated all these challenges and revealed serious gaps in organizations' preparedness for remote working.
Experts predict that digital transformation and remote work will accelerate in the new normal. So will the need to secure every kind of endpoint and safeguard sensitive corporate data. To succeed in the new reality, solutions must meet the rigorous security requirement of IT leaders while also accommodating users' desire for ease-of-use and mobility.
Unified endpoint security – leveraging AI, machine learning and automation – provides next-generation cyberthreat prevention and remediation across devices, networks, apps and people. Bridging 'Zero Trust' with 'Zero Touch', without interfering with user productivity, unified endpoint security is designed for the future of work.
Please complete the form to download the asset.