Whitepaper:
2020 Vulnerability & Threat Trends Report
The number of new vulnerabilities reported every year can be overwhelming, and your defense strategy can benefit from the perspective of trends shaping the vulnerability and threat landscape.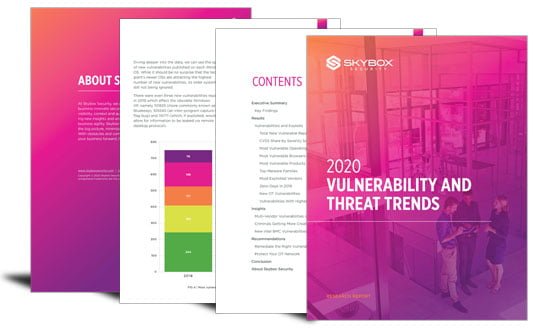 The mass of new vulnerabilities and flaws reported each year introduces new complexity to enterprise security environments and places additional stress on stretched resources to remediate the right vulnerabilities first.
Vulnerabilities cannot be managed in isolation. They need to be understood with knowledge of continuously changing internal and external factors — it is only with this context that organizations can enact intelligent remediation strategies.
This report gives CISOs and security leaders the perspective they need to see the trends shaping the vulnerability and threat landscape and, in turn, their defense strategy.
The 2020 Vulnerability and Threat Trends Report (now in its third annual edition) examines new vulnerabilities published in the last one year, newly developed exploits, new exploit-based malware and attacks, current threat tactics and more.
Such analysis helps to provide much-needed context to the more than 17,000 vulnerabilities published in the previous year. The insights and recommendations provided are there to help align security strategies to effectively counter the current threat landscape. Incorporating such intelligence in vulnerability management programs will help put vulnerabilities in a risk–based context and focus remediation on the small subset of vulnerabilities most likely to be used in an attack.
Please complete the form to download the asset.