Case Study:
Leading Malaysian developer zeroes in on threats with LogRhythm
Full visibility and intelligent detection eliminate cybersecurity blind spots and reduce response time for UDA.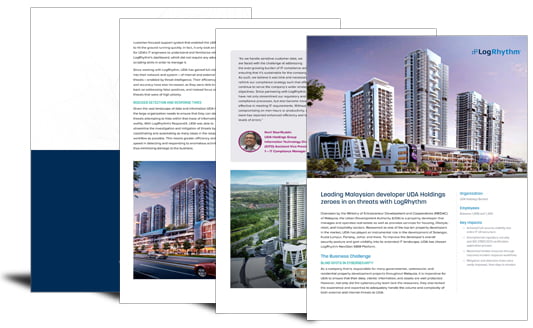 As a company that is responsible for many governmental, commercial, and residential property development projects throughout Malaysia, it is imperative for the Urban Development Authority (UDA) to ensure that their data, clients' information, and assets are well protected.
However, not only did the cybersecurity team lack the resources, they also lacked the experience and expertise to adequately handle the volume and complexity of both external and internal threats to UDA. It was spending a substantial amount of time and resources manually detecting threats, which include DDoS, ransomware, brute force, and phishing attacks.
This manual process also made it harder to differentiate between real threats and false positives, resulting in a huge impediment to their ability to respond and remediate cyberthreats in the shortest possible time. Eventually, the ability to satisfy compliance regulations was also impacted.
The team realized that they needed a security information event management (SIEM) solution that could enhance and centralize visibility, detect advanced threats, and respond to incidents effectively around the clock.
Please complete the form to download the asset.